CP-GM5 Innovative fixed-tilt ground mount system for photovoltaic (PV) mounting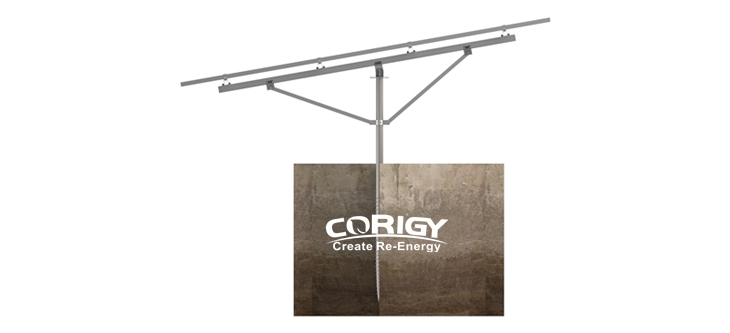 • Four major components: post, girder assembly, rail, strut.
• 25% increase in girder strength
• 40% increase in purlin spans
• Standardized hardware, reduces installation time
• Fewer trucks, less to manage, unload, and deploy
• 12% reduction in man hours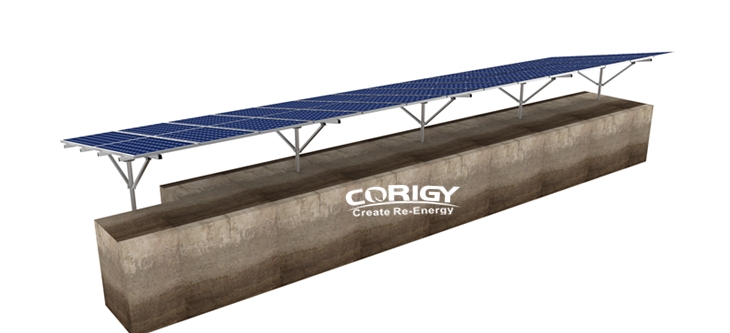 Unlike any steel PV mounting system on the market, the CP-GM5 design is a direct result of customer and installer feedback, combined with years of engineering and manufacturing experience.
The CP-GM5 design principals include: simple components, larger spans between foundations, and hardware standardization to reduce the number of part variables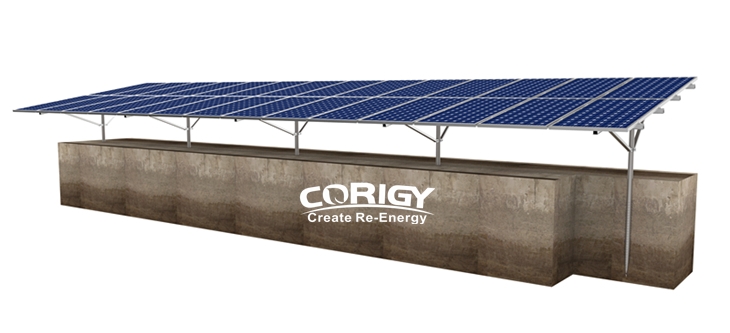 Reduction of Piles, Means Reduction of Costs
Based on initial findings, the average utility-scale layout will experience a pile (foundation) quantity reduction of 20% and capture the following cost efficiencies:
• Reduced manufacturing time/cost savings
• Reduced freight time, weight/cost savings
• Site deployment time/cost savings
• Installation time/cost savings
Factory Pre-Assembly
In order to speed installation time in the field, Corigy pre-assembles all the components we can before shipping.
Benefits include:
• Fewer touch points in the field reduces install time, saving installation costs
• Less loose hardware in field reduces material loss on site
Intuitive Design Features
Through the years, Corigy has taken customer and installer feedback seriously. Within the CP-GM5 design are visual quality assurance measuresincorporated during manufacturing into the system.
What this means for our customers is:
• Part identification numbers on every major component to clearly identify the part and the location for installation
• Embedment depth call-out (score line) on piles—provides a clear visual quality control indicator, increasing installation efficiency and reducing margin of error
• Torque check clips provides a simplified visual quality control check during installation reducing the need for manual torque checks
Safety and Ergonomic Improvements
It is well known that falls from elevated surfaces, such as from ladders, are one of the leading causes of occupational fatalities and injuries (OSHA).
Corigy has designed the CP-GM5 system to allow the option of module installation either from the top-down or bottom-up, reducing the necessity for ladders or scaffolding, and thereby reducing the likelihood of injuries during installation.
Technical Data


EXTENSION SOLUTIONS:
Pitched Roof Solar Mounting Flat Roof Solar Mounitng Ground Mounting Systems Solar components


Tile Roof Mounting East/West Ballasted Mounting CP-GM3 Ground Mounting Solar components
Metal Roof Mounting Adjustable Portrait Mounting CP-GM4 steel Ground Mounting Ground Screws
Shingle Roof Mounting Portrait Ballasted Mounting CP-GM5 Pile-driven Ground Mounting Solar Fencing
Adjustable Tilt Mounting Landscape Ballasted Mounting