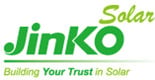 Aug. 21, 2013 - JinkoSolar today announced that it will supply 23MW of Solar PV modules to Swinerton Builders. According to terms of the agreement, deliveries will be completed during the 4th quarter of 2013.
Swinerton will utilize JinkoSolar's 300W 72 cells PV modules in its construction of the Westland Solar Farms, LLC ground-mounted solar plant in Fresno County, California. When completed, this Utility Scale Solar Farm will provide electricity to PG&E.
"Swinerton is excited to be working with the Westlands Solar Farm ownership and our leading technology partners, including JinkoSolar. Having recently completed a similar 20MW single axis tracker project in PG&E territory, Swinerton looks forward to delivering another successful solar project in the Central Valley," said Mr. George Hershman, Division Manager, Swinerton Renewable Energy.
"We are very excited to work with Swinerton Builders on this large scale project in Northern California," said Mr. Nigel Cockroft, JinkoSolar's US General Manager. "JinkoSolar is committed to providing excellent service and product to the US Solar Market through partnership with industry leaders such as Swinerton Builders."