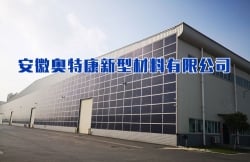 Anhui Aotekang New Material Co.,Ltd was founded in 2014, located in Wuhu, Anhui along the Yangtze river.Close to Nanjing Lukou Airport.Our company specializes in design and manufacturing all kinds of FRP products.Now we have more than 150 staff team and 13 fully automatic FRP pultrusion production lines.Our company has 2 state grade patents, 17 new practical paten and won the "high-tech enterprise" in Anhui Province in 2018.Our FRP PV brackets has successfully replaced the traditional steel and AL brackets in the application of PV color steel、flat roof、ground roof and floating system. Therefore, we have established a long-term and stable strategic cooperative relationship with Xinyi Group and SUNGROW.
Our company has passed "ISO9001:2015quality system" attestation.We have established stable cooperative relations with many authoritative testing institutions. Raw materials and products havepassed ROHS and REACH by SGS. In the selection of raw materials, we insist that there is no qualified product without qualified raw materials. We choose to be the global leader with AOC Lenovo Group (formerly Dismann Composite Material). High quality resin suppliers, CPIC, CTG and other companies cooperate to ensure the quality and performance of our products.
We always try our best to do every detail perfect with high-quality FRP products to winning a blue sky for future generations!