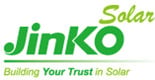 JinkoSolar Holding Co., Ltd. today announced that it has supplied approximately 3MW of PV modules to Embotelladora de Sula S.A. for Honduras's rooftop solar system.
The project uses 11,650 pieces of JinkoSolar's high-efficiency PV modules that will produce approximately 3,815,830kWh of electricity per year and reduce emissions by nearly 1263.6 tons of CO2 annually.
Mr. Alberto Cuter, JinkoSolar's Sales Director for Emerging Markets commented:" Energy prices tend to be higher in Central America than elsewhere given the region's dependence on imported fossil fuels which accounts for 45% of all energy generated. For countries that rely disproportionately on oil for power generation, volatility of energy prices forces people to plan for the medium to long-term, and solar becomes the best substitution of energy. We are proud to supply JinkoSolar modules for this project that makes this rooftop system not only the largest in Central American but also an example to the rest of the region."
Ramzy Massu, General Manager of Smartsolar said, "We are very proud to work with JinkoSolar on this meaningful project in Central America. This project was 100% designed, supervised and installed by Hondurans. Smartsolar has built the largest rooftop solar system in Central America, placing Honduras on the world map in solar section."