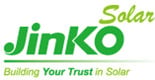 JinkoSolar Holding Co., Ltd. today announced that it will supply 104MW dc of PV solar panels for the Utah Red Hills Renewable Park project.
JinkoSolar will deliver over 340,000 of its polycrystalline 72-cell panels to the Utah Red Hills Renewable Park though a contract with Swinerton Renewable Energy. Scatec Solar, the project's developer and a long-term owner, hired Swinerton Renewable Energy to construct the plant and procure the appropriate technologies.
The Utah Red Hills Renewable Park, set to be built on a site with excellent solar irradiation, will generate around 210 million kWh of electricity per year, which will be fed into the grid under a twenty-year Power Purchase Agreement (PPA) with PacifiCorp's Rocky Mountain Power, according to the utility's obligation under the federal Public Utility Regulatory Policies Act. Based on EPA estimates, it will power approximately 18,500 homes and prevent nearly 145 thousand tons of carbon dioxide emissions annually.
"We are thrilled to be a part of this large project," said Nigel Cockroft, General Manager of JinkoSolar (U.S.) Inc. "The Red Hills project is a true testament of the positive progression in the sustainable energy industry, which JinkoSolar is proud to support."
"Swinerton is excited to continue our successful partnership with JinkoSolar—an innovative leader in the Solar Industry—and to bring jobs and years of clean power to the Parowan residents. Utah Red Hills Renewable Park is a great project for the city of Parowan and we couldn't be more eager to work with this team," commented Mr. George Hershman, Vice President and Division Manager of Swinerton Renewable Energy.
"Scatec Solar is proud to bring on experienced partners and proven technologies to build a project that will deliver clean and reliable energy to the residents of Utah," said Mr. Luigi Resta, Managing Director of Scatec Solar North America. "Our team on the ground is excited to be building the first utility-scale PV project in a state with such incredible solar potential."