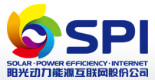 Solar Power, Inc. today announced that its wholly owned subsidiary, SPI Solar Power Engineering (Suzhou) Co., Ltd., has signed an agreement with Jingzhaolai PV Power Co., Ltd. of Inner Mongolia to provide engineering, procurement and development (EPC) services for its 20MW utility-scale PV project located in Liangcheng County, Ulanqab, Inner Mongolia.
Construction of the project is expected to begin in April 2015 with grid connection anticipated in June 2015.
"This agreement strengthens SPI's market position in Inner Mongolia, a fast growing PV market with substantial solar development potential," said Xiaofeng Peng, Chairman of SPI. "The Chinese government continues to demonstrate its unwavering commitment to solar energy, recently increasing China's PV installation target for 2015 from 15 gigawatts to 17.8 gigawatts of new capacity. As a leader in China's downstream solar market, we are confident that SPI will benefit significantly from these positive macro trends."