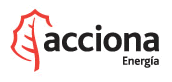 ACCIONA Energía has put the Sishen solar photovoltaic plant into service. With its 216GWh of electricity generation per year, it will have the highest level of production of all the plants that are operational in Africa. ACCIONA holds a majority stake in the plant.
The plant, with a peak capacity of 94.3MW - 74 nominal MW - is located in the municipality of Dibeng in Northern Cape province (in the north-west of the country). The plant will produce electricity equivalent to the consumption of around 100,000 South African households a year, avoiding the emission of 208,000 metric tons of C02 from conventional coal-fired power stations to the atmosphere.
"The start-up of Sishen is a major milestone for us, as it is the biggest photovoltaic plant built by our company in the world and our first renewable facility in South Africa, a country in which we expect to increase our presence considerably", says ACCIONA Energía CEO Rafael Mateo. "We are pleased to be contributing to compliance with South Africa's objectives in achieving a more sustainable energy system, creating jobs and added value in the country in the process", he adds.