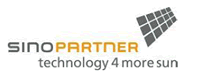 ET Solar Group Corp. ("ET Solar") today announces the grid connection of a 1.45MW commercial rooftop project in Austria where ET Solar modules were used.

The project was developed and executed by sinoPARTNER Technologie AG ("sinoPARTNER") with the investor being Vorarlerger Kraftwerke AG ("VKW"). ET Solar was the only module supplier for the project that consists of 39 rooftops.

Mr. Dennis She, President and CEO of ET Solar, said, "We are very happy to see the PV industry grow at a solid pace in Austria. Since our collaboration with sinoPARTNER in 2011, ET Solar has participated in quite a number of large projects and gained valuable experience out of them. With the strong track record and vast understanding, we will make continuous efforts to be a more significant key equipment supplier in the country."

Mr. Jens Peiffer, CEO of sinoPARTNER, added, "ET Solar has demonstrated to b e a very reliable module equipment provider to the various projects we took on since 2011 in Austria. We are confident that the quality supplier relationship will significantly facilitate our business development efforts in this exciting market going forward."