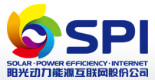 SPI Solar today announced that its newly established and wholly owned subsidiary, SPI Solar Power Engineering (Suzhou) Co., Ltd. (Suzhou Xinwei), entered into two engineering, procurement and construction ("EPC") agreements for an aggregate of 80MW of solar projects in China. The two agreements call for Suzhou Xinwei to provide EPC services to two projects -- one ground-based utility project of 70MW in Huade County, Inner Mongolia Region (the "Huade Project") and one distributed generation ("DG") project of 10MW in Shunde County, Guangdong Province (the "Shunde Project").
Construction of the Huade Project is scheduled to begin in early December 2014 and be completed with grid connection by the end of July 2015. Construction of the Shunde Project is scheduled to begin in November 2014 and be completed by the end of December 2014 with grid connection.
"SPI continues to strengthen its leading position in developing solar projects in Inner Mongolia and across China," said Xiaofeng Peng, Chairman of SPI. "We are especially pleased to announce our first EPC contract for a DG project in Guangdong Province, one of the most important and rapidly growing markets for DG projects in China."