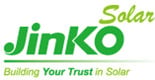 JinkoSolar Holding Co., Ltd. today announced it has won a bid from China Three Gorges New Energy Corp. ("CTGNE"), a wholly-owned subsidiary of China Three Gorges Corporation ("CTGC"), to supply 50-megawatt solar modules for a PV power plant in Gansu Province, China.

"Our goal is to drive China's future in renewable energy, and in particular solar power which has proven to be one of the most feasible and eco-friendly solutions," said Mr. Zhengfeng Yang, Project Deputy General Manager of Three Gorges New Energy. "We feel excited to work with JinkoSolar to make electricity from solar power more competitive and economical."

"We are very pleased to be working with Three Gorges New Energy to deliver cost-competitive solar power on 50-MW scale," said Mr. Xiande Li, Chairman of JinkoSolar. "By combining our high-efficiency solar technology and CTGNE's experience in financing and management of clean energy projects, we are confident that this project will maximize the solar energy generated over the span of system's life. The increased amount of electricity being generated from renewable energy sources, from solar in particularly, will gradually change the Chinese energy portfolio.

"This strategic partnership with Three Gorges New Energy will further strengthen the Company's position in China's renewable market. We look forward to future cooperation between our two companies including joint exploration of hybrid solar-wind solution projects with them," added Mr. Xiande Li.