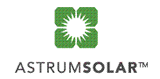 July 7, 2014 - Astrum Solar and Hudson Clean Energy announced today the signing of a partnership agreement, whereby Hudson will provide Astrum with up to $100 million of financing to support the costs of residential solar installations throughout the United States.
The financing program will allow Astrum to accelerate its mission of spreading solar power to residential rooftops at a time the award-winning national residential solar provider is rapidly expanding its footprint in key solar markets across the country. The financing program expands Hudson's global clean energy investment portfolio.
"Though the cost of residential photovoltaic systems has declined, for some homeowners the up-front cost remains greater than what they can afford out of pocket," said Wilson Chang, Hudson Vice President. "There remains a very real need for creative and attractive financing solutions in this space that Hudson has identified and is working in partnership with Astrum to fulfill."
"We are excited by the validation provided by this partnership," said Josh Goldberg, Astrum Co-Founder and Executive Vice President. "Hudson is a valuable partner with an exceptional understanding of solar finance. We look forward to working together to lower the costs associated with solar installations for our customers."
"This agreement is just the beginning. Hudson believes very strongly in the residential solar market's potential and is committed to making an impact in this space," said Neil Auerbach, founder and Managing Partner of Hudson. "Residential solar is already cost-competitive with utility prices in several key markets, and with the cost per kilowatt of residential solar systems continuing to decline, we will monitor new opportunities to productively deploy capital on behalf of our investors."