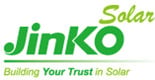 Feb. 13, 2014 - JinkoSolar today announced that it has supplied solar PV modules to CSEM-uae ("CSEM"). The modules will be used for CSEM's Solar Outdoor Laboratory, an R&D and innovation center for renewable energy in Ras al-Khaimah, UAE.
Located in the northern Emirate of Ras al-Khaimah and built to develop and test competitive solar energy solutions for the Cooperation Council for the Arab States of the Gulf ("GCC") market, the project has been operating since September, 2013.
"We're very proud to have the opportunity to participate in and demonstrate our leading solar-photovatic technology to the GCC market," commented Mr. Kangping Chen, Chief Executive Officer of JinkoSolar. "As an emerging market, the GCC region with its substantial population serves as the ideal location to set examples for future solar projects. As one of the global leaders in the solar PV industry, we look forward to demonstrating the application of renewable energy technology in the Middle East region."
Hamid Kayal, Chief Executive Officer of CSEM-uae said, "We are excited about cooperating with JinkoSolar. As one of the global leaders in this industry, JinkoSolar will help and demonstrate the off grid applications of solar power with completive cost per kWh. The UAE's government is committed to providing and developing clean energy. This project is going to be one of the best proofs of concept, demonstration and educational sites in the region."