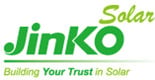 Jan. 13, 2014 - JinkoSolar Holding Co., Ltd. today announced that its Board of Directors has authorized the exploration of strategic alternatives with respect to JinkoSolar's downstream solar PV project business. The Board intends to consider a broad range of alternatives including, but not limited to, an IPO, pre-IPO financing or merger and acquisition of the business.
"We believe that the separation will support the sustainable growth of our downstream PV project business, and the Board of Directors and management team are always committed to further enhancing value for all JinkoSolar shareholders," said Mr. Xiande Li, Chairman of JinkoSolar. "Given that our downstream PV project business is expected to exceed 500MW of installed capacity by the end of 2014 and with the clear commitment of the Chinese government to renewable energy, solar energy in particular, and a growing market, we believe now is an appropriate time to prudently explore strategic alternatives for this business."
JinkoSolar management, together with its financial and legal advisers, will explore strategic alternatives, including the exploration of the separation of its solar PV projects business into a separate company through a spin-off or other transactions that will benefit the Company's shareholders. The Company would like to note that there can be no assurance that the Board of Directors' authorization above will result in any transaction, or that any transaction, if pursued, will be consummated.