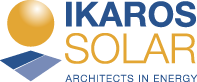 30 July, 2013 - Ikaros Solar and Rising Corporation have agreed to establish a joint venture called "Ikaros Rising Corporation" in Tokyo.

Rising Corporation will build on Ikaros Solar's extensive know-how on large scale PV systems. The new company targets to reduce 10% to 20% from Japanese standard price of solar power systems by introducing global practices and quality into Japanese market. The joint venture will also conduct R&D activities, focusing on the specific design and power generation measures geared to the unique Japanese climate : earthquakes, strong winds, high-temperature and humidity etc.

Mr. Koichi Nakanishi, a former general director of sales and marketing at Q-Cells Japan will serve as the new company's Managing Director.