Powerway recently completed it's fourth successful off-grid PV system in Hong Kong. The company has now built a solid business foundation in that great city.

Powerway is able to focus on projects that require sophisticated mounting structures and specialized corresponding equipment. Customers trust Powerway for even the most complex projects, because the company gives them consistently sound designs and durable products. They also gain confidence from Powerway's large portfolio of successful domestic and international projects.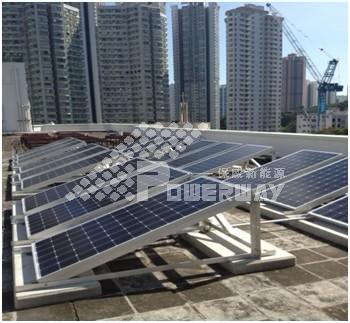 Hong Kong's geographical location and abundant sunshine are very favorable for producing solar energy; as a result, PV projects there are popular and numerous. Hong Kong is a city of skyscrapers, however, so designs have to be flexible to adapt to the challenges of specific projects.
For this, Powerway conducts detailed site investigations before its engineers create the project's design. The company's engineering and design staff scrutinize every detail in their on-site inspections, and then adjust measurements to local conditions. This thorough study – before doing the design - results in projects that optimize the site's potential and meet customer expectations. This project was no exception, which is why the clients commended Powerway for their perfectly custom-designed roofing system, its appropriate supporting installation plan, and the company's reliable products.
Having realized this contract, Powerway and its prominent local partner have developed a long-term strategic and cooperative relationship. The success of this project has given both parties the confidence to expand their cooperation to future projects.