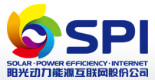 MAGE SOLAR, who has just introduced a game-changing AC-PV module announced that it will be offering special AC-PV module kits at SPI in Orlando.

In recent months, the AC-version of the industry leading MAGE POWERTEC PLUS modules has garnered great attention and reviews as it is the only AC-PV module on the market offering an exclusive 30 year product warranty on the module-integrated microinverter to match the MAGE POWERTEC PLUS module. Providing a 30 year product warranty on the frame-attached Pantheon II microinverter by SolarBridge as well as the signature MAGE POWERTEC PLUS 30 year 80% power guarantee has distinguished the company's AC-PV module from standard ACPV modules available on the market.

For SPI, MAGE SOLAR has packaged three popular sizes for the residential market that contain 240 W AC PV-modules, MAGE SYSTEMTEC racking, a power management system, and also include all cables and accessories for a complete install to the transition box. The 2.8kW, 4.8kW and 7.2kW kits are easily expandable because of the time and tool saving plug-and-play technology.

"The MAGE POWERTEC PLUS AC PV-module is greatly timesaving and secure during the installation process," says Joe Thomas, President and CEO of MAGE SOLAR USA. "Additionally, it also gives the end-users much greater freedom to profit from solar energy as shading is less of an issue with microinverter technology. The AC-PV module kits therefore signify an ideal 'starter kit' that can be expanded whenever the home-owner wishes."