2012 was a year marked by huge production capacity surpluses and big price cuts in the solar industry. A new survey by solar market research company ENF Solar shows that Chinese panel manufacturers have 1.6GWp of crystalline panels that were produced in 2012 but are still sitting unsold in warehouses.

However, despite so much stock still choking up the channel, most of the 100 manufacturers surveyed this month showed optimism with a general consensus that profit margins will be improving in the coming months. This optimism was reflected in a general price freeze – the first time in 12 months that average panel prices haven't dropped.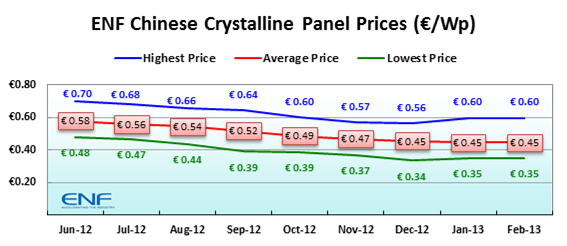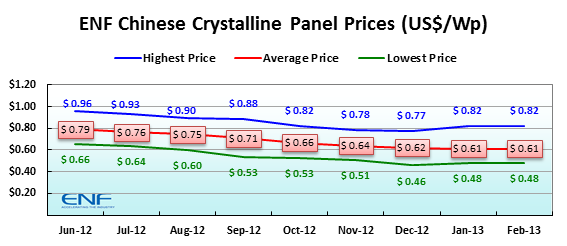 The price freeze wasn't only due to optimism – the price of solar cells also reversed a falling trend to rise quite significantly. Mono 125mm*125mm cell prices rose +3% to €0.32/Wp (US$0.44/Wp) and Poly 156mm*156mm cell prices rose +4% to €0.27/Wp (US$0.37).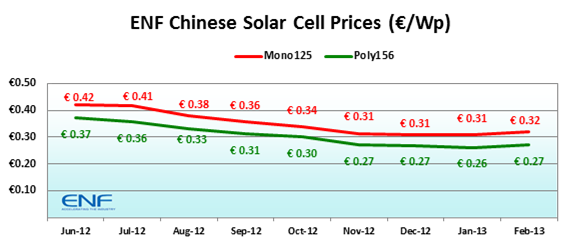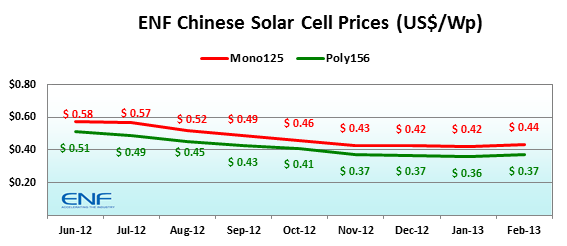 Many Chinese panel manufacturers are carefully reviewing their pricing strategies as they return from Chinese New Year holidays – and prior to the national holiday the common view was that it was time for prices to start rising.

About ENF: ENF Solar (www.enfsolar.com) is a solar market research company that actively interviews Chinese solar core chain manufacturers throughout the year. It also publishes a free online directory of all solar companies in the world.

Data Note: All prices in the above price charts are converted using the latest exchange rate to eliminate the influence of exchange rate fluctuations on the true price trends.