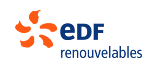 BELECTRIC has completed and commissioned a solar project in Israel on behalf of its customer EDF. With an installed capacity of 60 MWp the solar plant produces more than 145 gigawatt hours of green electricity per year. BELECTRIC provided a turnkey system for the large-scale PV plant, which was built in Timna. The plant consists of 154,000 solar panels and reached commercial operation in spring this year. Furthermore BELECTRIC is currently realising floating PV plants in Israel on behalf of EDF. The 19.3 MW project is located in northern Israel on a water reservoir used for fish farms near the Kibbutz Lohamei HaGeta'ot. Commissioning for this project is expected by end of this year. BELECTRIC will operate and maintain both projects on behalf of its customer.
"This has been the largest project we have built so far for our long standing customer EDF in Israel", explains Ingo Alphéus, CEO of BELECTRIC Solar & Battery GmbH.
"Considering the difficult topography of the construction site with extreme hard soil and the harsh desert weather conditions, I am particularly proud of our team and local workforce and how they met these challenges. We have been operating the solar plant since spring and are looking forward to many more years of operations", adds Anna Velikansky, Managing Director of BELECTRIC Israel Ltd.
BELECTRIC is an EPC service providers in the development and construction of groundmounted solar power plants and rooftop PV systems. BELECTRIC has 20 years of experience in power plant construction and has built almost 4 gigawatts of capacity to date. Via its subsidiary BELECTRIC Israel Ltd. the company has already realized more than 30 solar projects in the country with a total capacity of around 500 MW. This includes Israel's solar project with an installed capacity of 120 MW near the village of Zeélim, which can produce more than 220 gigawatt hours of green electricity per year.