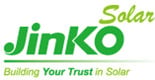 JinkoSolar today announced that it has committed to the RE100 and EP100 initiatives. These global campaigns are led by The Climate Group.
As part of the pledge, JinkoSolar will power all of its solar plants and global operations with 100% renewable power by 2025. By 2030, the Company will deploy an energy management system across its operations and improve its energy productivity by 30% when compared to 2016. To work towards these goals, JinkoSolar has also signed up for the EP100 Cooling Challenge to increase the energy efficiency of its cooling operations.
Mr. Kangping Chen, Chief Executive Officer of JinkoSolar, commented, "We care about long-term sustainability just as much as we care about the quality of our products. We continuously encourage our suppliers to source renewable electricity and support green practices. As one of the leading companies in the renewable energy sector, it is important to be responsible role models for a sustainable future. The core of our business is to be green and we are thrilled to be the first global solar manufacturer becoming a member of the RE100 and EP100 initiatives."
Yuming Hui, China Director, The Climate Group, said, "It's fantastic to see JinkoSolar leading by example on cleaner, smarter energy use and investing in solar power and energy efficient cooling. By joining RE100 and EP100, JinkoSolar is putting itself on the map in a busy week for global climate action and demonstrating what can be done. The private sector has a vital role to play in accelerating China's clean economy, and we hope many more companies will follow suit.