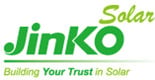 JinkoSolar Holding Co., Ltd. today announced that it has signed a 300MW master module supply agreement with Henan Senyuan Electric Co., Ltd. ("Senyuan Electric").
JinkoSolar will cooperate with Senyuan Electric by supplying solar modules for local PV poverty alleviation projects in Henan. The focus will be alleviating poverty by developing targeted PV projects in poor area in Henan province.
"We have been leveraging our strong technical skills, reliable high-efficiency products and experienced development team to participate in a number of poverty alleviation projects across China in recent years, including Jiangxi, Anhui, Guizhou, Shanxi, Gansu and Shandong provinces," commented Mr. Gener Miao, JinkoSolar's Vice President of Global Sales and Marketing. "Our collaboration with Senyuan Electric will provide thousands of low-income households with the highest quality PV modules that will ensure a sustainable generation of green energy and income for them and raise their standard of living."
Mr. Hong Cao, General Manager of Senyuan Electric added, "Senyuan Electric and JinkoSolar share a commitment to helping alleviate poverty through high quality PV projects, which has created an important foundation to strengthen our relationship. Looking forward, we expect to join hands with JinkoSolar to promote the roll out of more PV poverty alleviation projects in Henan."