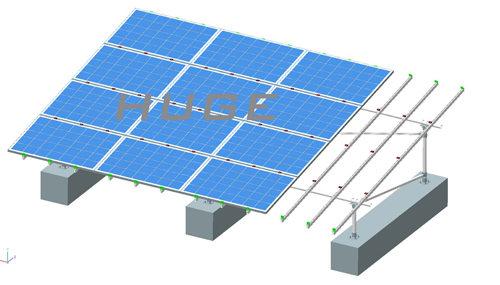 Technical Parameters:

Installation Site: Open ground and Flat roof
Installation Angle: Up to 60 degree
Wind Load: Up to 60m/s
Snow Load: Up to 1.5KN/m2
Applicable Module: Framed and frameless
Module Orientation: Landscape and portrait
Module Width: Any
Code Compliance: AS/NZS1170 and other international standards
Material: Aluminum Alloy 6005-T5, Stainless Steel 304, Galvanized Steel Pipe,
Color: Painted as per customer's requirement or natural
Warranty: 10 years warranty and 20 years product service life
Benefits Of Huge Mount:


1. Materials: Huge mounting rails adopt Aluminum 6005, with surface Anodized treatment. The anodized film applied complies with National Standard GB5237-2008: to be anti-corrosive
2. Easy & Efficient Installation: Components can be freely combined; Aluminum alloy rails and unique design Module are Easy to installation together.
A single wrench is enough for the fixation procedures. With different parts connected properly to suit various sites installation. With high precision, rail length accurate to millimeter, any onsite cut due to rail too long or too short is not necessary, leaving no unnecessary waste.
3. International Standard: HUGE Ground mounting system complies with international standard AS/NZS1170.2, and SGS testing to keeping up with the leading technology.
4. Environment-friendly: All the HUGE raw materials adopted are recyclable and guaranteed with at least 10 years of quality warranty and 20 years service life.